Bollywood Pandits (Also known as Strings)
 Rocking in Sommerscene festival Malmo Sweden
Malmo crowd learning Bollywood dance!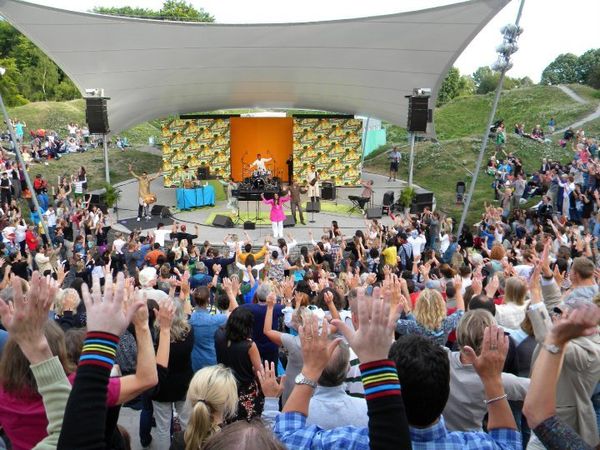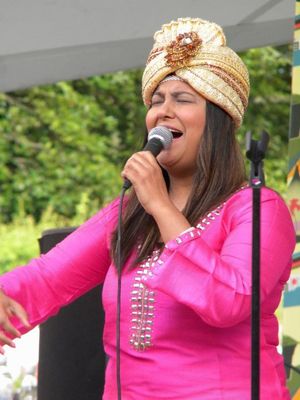 Anu Shukla-lead singer of Bollywood Pandits teaching Bollywood dance (while singing ) to rocking crowd of Malmo in Sommerscene festival in Sweden
THE LATEST.........
Performing in Diwali Celebrations 2010 hosted by Birmingham City Council at National indoor Arena, Birmingham for 12000 people
This year (2010) Strings is performing Navratri Garba at most rocking and popular Brentford Leisure centre Chiswick for LCNL.
Performing in Indo-Scottish Cultural Concert at Nehru Centre, London on 30th Sep 2010

Bollywood Pandits is ready to fly with crew of 26 people (10 piece band, Dancers, Video Jockey, Make UP artist...) to perform two spectacular stage shows on 22nd & 23 March 10 for government of Oman with ultimate technology & sound by Mr K. J. Singh ( Front of house sound engineer of A R Rehman's Jai Ho tour)

Bollywood Pandits is invited to perform for UK ASIAN BUSINESS AWARDS at SOFITEL HOTEL

Bollywood Pandits performed at UK ASIAN MUSIC AWARDS AT ROYAL FESTIVAL HALL
2010 Highlights.....
14th Feb 10 - Valentine Dinner & Dance at Haveli Slough with Bhangra Legend Shin (DCS)
06th March 10 - Birmingham with Shin (DCS) Private Event
11th March 10- Royal Festival Hall, London UK Asian Music Awards
22nd March 10 -

Hosn El Felidj Theater, Muscat Stage show with 26 peice band for Government of Oman

24th March 10 - 

El Mouroudj Theater, Salalah Stage show with 26 peice band for Government of Oman

26th March 10 - Sofitel Hotel, Heathrow Terminal 5 Asian Business Awards
16th April 10 - Circus Casino
29th April 10 - Alexandra Palace (Private event)
05th June 10- Arora Hotel Group (Private event)
02nd July 10 - Dorchester Hotel (Private event)
10th July 10 - Grosvenor House (Private event)
31st July 10 - Okarina Ethno festival, Bled,

Slovenia

3rd Aug 10 - Sommerscene Festival, Malmo (Sweeden)
30th Sept 10 - Indo-Scottish Cultural Concert at Nehru Centre, London
31st Oct 10 - National indoor Arena, Birmingham Diwali Celebrations hosted by Birmingham City Council
06th Nov 10 - City Pavilion Pre Diwali Dinner & Dance
23rd Nov 10 - With Bollywood playback singer Kavita Krishnamurthy at Sai Birthday Celebration, Byron Hall
24th Dec 10 - City Pavilion Christmas Eve Dinner & Dance with Shin from DCS Bhangra band
2011 Highlights.....
5th March 11 - Belgrade Theatre, Coventry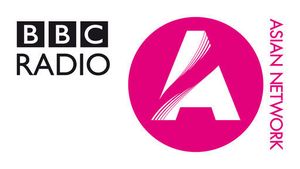 Presents Diwali-2009 Special Live Sessions
Watch a montage of an exclusive live session with Shin, of Bhangra band DCS,
collaborating with the Bollywood Pandits, featuring Anu shukla, Apache Indian & Kiran Thakrar
 
Listen the the full session on Nikki's Diwali Special, Sat 17th October 09 from 17.00.
To watch full video click here
Diwali CME bring you Britain's Got Talent runners-up, SIGNATURE
performing their breath-taking act live on stage alongside
performing live London's finest Indian Band BOLLYWOOD PANDITS
Strings (also known as Bollywood Pandits) collaborated and performed two shows
with acclaimed comedian and singer
Bill Bailey at Wembley arena
Whole band was emotional when 20,000 people warmly welcomed
the concept of fusing Rock song with Indian music........
Featuring
Anu Shukla
as a lead singer
In a brand new smashing Bollywood Musical
Bollywoodland- "Where Love Never Dies"
at
Theatre Teatro Compac Gran Vía, Madrid Spain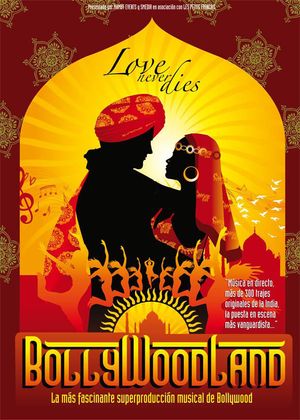 Highlights of our recent show in POLAND

(Please click the thumbnail)
Collaboration with Amercian RnB superstar Ginuwine
Nominated in UK ASIAN MUSIC AWARDS 2009
 as "Best Urban Act"!!
Watch out for the debut single 'Baby Dil Deewana' Feat. U.S star Ginuwine and UK star Anu Shukla of Strings (also known as Bollywood Pandits) This unique collaboration is a revolution in music bringing together RnB and Hindi genres. Hindi lyrics written and sang by Anu, composed by Kiran Thakrar & produced by hot new talent Shayal. click here to watch and listen this amazing track
The single and video feat. Bollywood Actress Neha dhupia as a model
BREAKING BARRIERS…..!!! 
No 2 in the Official BBC Independent Label (Indie) Chart
no 7 in the Official BBC RnB Chart in it's first week!
Kiran & Anuradha performed at British Commonwealth Centre for Royals....!!
(Click on the image to view it in full size)
2009 Highlights.....

23rd March 09 - Anuradha lead singer of band is singing in musical name 'Bollywoodland-Where Love Never Dies' for two months in Spain.
22nd March 09 - The City Pavillion- Dinner and Dance with Shin from DCS
11th April 09 - Harrow Leisure centre-Jains UK Raas Garba Extravaganza
04th May 09 - London Marriott Hotel-Private event
14th June 09 -Twickenham Carnival
25th July 09 - Novotel Hotel, Hammersmith-Private Event
26th July 09 - Limetree Festival
15th Aug 09 - Park Lane Hilton Hotel - Private Event
16th Aug 09 - Live at Bandstand, Portsmouth,
19th Sep 09 - Onwards Navaratri Festival 2009 at Kapital Venue, Kapital Building, Leicester
17th Oct 09 - Bolton- Diwali Dinner & Dance
17th Oct 09 - BBC Asian Radio Diwali Special Live sessions click here to watch
24th Oct 09 - Diwali Dinner & Dance, Munich, GERMANY
23rd Nov 09 - With Bollywood playback singer Mahalakshmi Iyer at Sai Birthday Celebration, Byron Hall
24th Dec 09 - City Pavillion Dinner & Dance with Shin from DCS Bhangra band
31st Dec 09 - Dinner Dance at Kapital Leicester
 
2008 Highlights.....
29th Nov 08  Radisson Portman Square Hotel, (Anglo-Asian Odontological Group Annual Ball)
23rd Nov 08 with Bollywood playback singer Richa Sharma at Sai Birthday Celebration, Byron Hall
08th Nov 08

 

Concert Hall & Klub Palladium, Warsaw, POLAND (Click here for more details)
26th Oct 08 Radisson Edwardian Hotel, Heathrow, (Mehfeel with Piano)
23rd Oct 08 Mandarin Oriental Hotel, Knightsbridge (Diabetes.org.uk)
30th Sep 08 onwards Navaratri Festival 2008 at UK's hottest venue Brentford Fountain Leisure Centre, Chiswick
14th Aug 08 With Bill Bailey at Edinburgh Festival Fringe 2008
06th July 08 Live at Bandstand, Portsmouth,
25th June 08 City of London Festival
21st June 08 Aggarwal Foods, SWITZERLAND (Corporate promotional event)
2007 Highlights.....
21st April 07 Lloyds TSB Asian Jewel Awards Night 2007, Manchester
29th April 07 Bollywood Brent Showcase, Wembley
30th June 07 Southampton Mela, Southampton
13th July 07 Mayor Of Richmond's World Music Concert, Richmond
24th July 07 BA Cash & Carry, City Hall, Cardiff (Corporate promotional event)
29th July 07 National Motorcycle Museum, Solihull (Private event)
05th Aug 07 Luton Mela, Luton
18th Sep 07 Dorchester Hotel, London (Private event)
20th Sep 07 Dorchester Hotel, London (Private event)
22nd Sep 07 Four seasons hotel (Private event)
23rd Sep 07 with India's foremost playback singer Richa Sharma at Grosvenor House Hotel, London (private event)
2nd & 3rd Oct 07 House of Lords (IIFA contempary Indian Art Show)
12th October 07 onwards.. Navratri Festival 2007 at UK's Hottest venue Brentford Fountain Leisure Centre, Chiswick
10th Nov 07 Diwali Mela Party, Munich GERMANY
14th Nov 07 Stanley Casino, Nottingham
28th Nov 07 with Bill Bailey (BBC Nevermind The Buzzcock fame) at Brighton Centre
29th & 30th Nov 07 again with Bill Bailey at WEMBLEY ARENA
2006 Highlights.....
New Year's Eve party in  Frankfurt, GERMANY
3rd March 2006 Fusion Devotional music performance at Kallang Theatre, SINGAPORE
16th July 2006 Croydon Mela, Main stage
29th July Classic Bollywood with Classical singer Chandra Chakraborty at Cannizaro Park Festival
29th July Tesco Feltham (Corporate promotional event)
20th Aug 2006 'ON The Edge' Richmond Riverside Festival
15th Dec 2006 Live performance and interview on BBC WM Birmingham

Don't forget to tune BBC2 on Christmas Eve at 9. 30pm to watch our appearance on "Never Mind the Buzzcock" show......It is a fun....!!
Pictures of STRINGS performance on 'Never mind the Buzzcocks' Show in BBC2 TV 
Please click the Thumbnail to view it in full size
2005 Highlights......
11th March 05 Performance at Savoy Theatre, FINLAND

3rd July 05 The Festival Of Sea, Bournemouth

17th July 05 Southampton Mela, Southampton

6th Aug 05  Riverside Festival, Nottingham

13th Aug 05 Ethno Dance Festival, Moscow, RUSSIA 

17th Aug 05 Royal National Theatre, London
2004 Highlights.......
Kiran performed at the MOBO'S  Awards with Babel Gilberto (Mobo award winner of 'Best World Music Album')

Performed at London Mela, Tooting Mela, Crawley Mela, Belgrave Mela

Dandia at Trafalgar Square

Strings Performed with India's Foremost Punjabi singer Hans Raj Hans

Once again Strings performed at the Mayor of London celebrated Diwali, 'the Festival of Light', in Trafalgar Square with 20,000 people on Sunday 7 November.
Memorable performances of

Strings.....
Universal's Film The Guru Premiere
Strings performed for one thousand Hollywood industry related people at Amerstradem Cine Expo 2002 in the Showcase  of Universal International Picture's new releases including its latest movie THE GURU for which Strings performed with Jimmy Mistry the 'Guru' of the Film(see Picture here)
Louis Vuitton
Strings recently performed for world famous designer Louis Vuitton on their launch of new product
BBC
It was honour for Strings to be part of BBC Party. Strings was invited to perform in a party by BBC for the opening of their new BBC Media Village site.
Henley's Asian Music Festival
Strings performed for an audience of three thousand people for this prestigious occasion. We were nominated the best Indian Band in UK and this festival was broadcasted on ZEE TV.
50 years of Independent India - A Celebration
Strings performed for two shows in the world famous venue Symphony Hall. We were very much Honoured to perform for 50th India's independence Day in presence of High Commissioner of India and many such dignitaries from UK and India. Once again we performed to a full house audience of four thousand.
Live On Air - By Asianet
Strings was chosen as" the Band"  by Asianet TV to perform live  for a special Broadcast aired throughout Europe.
An Evening with Sri Hariprasad  Chaurasia
Strings, once again had the privilege to perform alongside the greatest flutist in the world - Sri Hariprasad Chaurasia,  at the Royal Festival Hall.
Navratri Nights
Strings is performing for last many years for the Lohana Navratri (The Hottest Navaratri spot) in Brenford Leisure Centre, Chiswick for 13 nights in a row.  Once again,  we were voted the best band to date. Quite naturally, We had One Thousand, two hundred people on their feet non stop for 3 hours everyday for 13 days!!!
Best Band - Yes Sir, We were!!!